I'm sorry your web browser is not supported we strongly recommend you use Microsoft Internet Explorer 10 or higher or an alternative browser.
Australian Mines
Investor Relations Centre
The Australian Mines Investor Centre is a dedicated resource for our shareholders and the financial community. You can access information on Australian Mines' latest announcements, presentations, reports, strategy, upcoming events, share price and capital structure, Shareholder services and services and sign up for email alerts.
Fact Sheet & FAQs
Fact sheet
Company name:
Australian Mines Limited
Business description:

Australian Mines (ASX: AUZ) aims to decarbonise and electrify the world through the development of sustainably and ethically sourced advanced battery materials in Australia. Our flagship Tier-1 asset, the Sconi Project, is development ready to produce nickel-cobalt-manganese (NCM) precursor materials (P-CAM) from a single source for all nickel-based batteries.

When Sconi is projected to come online, it will meet surging demand and an expected supply deficit in the electric vehicle and energy storage industries globally while delivering attractive returns to our shareholders.

Australian Mines has two other promising, early stage 100% owned exploration and development assets around Australia including the Flemington Project (cobalt-scandium-nickel-copper-gold) in NSW and the Lennard Project (nickel sulphide) in WA providing further asset diversity and potential for our shareholders.

Issued share capital (basic):
Market capitalisation ($A):
ASX code:

AUZ (Fully paid ordinary shares)

Managing director/CEO:

Benjamin Bell

Board of directors:

Michael Ramsden (Chairman) / Independent
Benjamin Bell (Managing director/CEO) / Executive
Michael Elias (Non-executive director) / Independent
Les Guthrie (Non-executive director) / Independent
Dominic Marinelli (Non-executive director) / Independent

Company secretary:

Oliver Carton

Registered office:

Level 34, 1 Eagle Street
Brisbane QLD 4000
Australia

Senior management:

Benjamin Bell (Managing director/CEO)
Tim Maclean (Chief operating officer)
David Loch (Investor relations manager)

Corporate website:

www.australianmines.com.au

Investor & media centre:

www.australianmines.com.au/investors/asx-announcements

Share registry:

Advanced Share Registry Ltd
110 Stirling Highway
Nedlands WA 6009
Australia

Bankers:

National Australia Bank Limited
100 St Georges Terrace
Perth WA 6000
Australia

Auditors:

BDO Audit (WA) Pty Ltd
38 Station Street
Subiaco WA 6008
Australia

Solicitors:

Allion Partners Pty Ltd
Level 9, 863 Hay Street
Perth WA 6000
Australia
Current: as of 12 August 2021
FAQs
The Sconi Project is destined to be one of the lowest cost, cobalt-producing, nickel operations globally.
Australian Mines continues to deliver against its multi-year plan to develop and enhance Sconi in preparation for full production.
Key project milestones to date include:
Operating its own fully integrated pilot production plant in Australia since 2017
Positive Bankable Feasibility Study (BFS) released in 2018
Producing battery grade Nickel and cobalt materials since 2018
Enhanced BFS released in 2019
30-year mine life plan reported in 2019
Awarded 'Prescribed Project' status by the Queensland Government in 2019
Producing battery grade manganese sulphate since 2020
Manufacturing on-spec NCM 523 and 622 P-CAM since 2020
Progressed to successfully manufacturing on-spec NCM 811 in 2020/21
Expanding to NCM 90/05/05 production 2021
Independent P-CAM Scoping Study completed in the June 2021 quarter
P-CAM pilot plant began construction in the June 2021 quarter
Updated design of front-end processing (to materially decrease capex) advancing
The first resource company certified Carbon Neutral by the Australian Government
Supply and demand imbalances creating competitive tension in the EV sector
Continuing to progress 'downstream' to meet EV makers at their assembly floor
Offtake discussions progressing with a number of parties
Bringing the ongoing Sconi offtake negotiations to a successful conclusion will be a key step in the process to develop Sconi into a world class source of advanced battery materials, potentially including high value-added Precursor Cathode Active Material (P-CAM). These are essential commodities used by electric vehicle battery makers, automotive manufacturers (also called 'OEMs', or original equipment manufacturers) and in the storage and delivery of clean, sustainable energy sources.
In the June 2021 quarter, Australian Mines continued to progress these offtake negotiations with a range of potential partners. These negotiations are the subject of standard Non-Disclosure (NDA) or Confidentiality Agreements (CA), which prohibit either party from disclosing information that may identify the counterparty. The NDAs/CAs also include clauses preventing commentary on the status of incomplete negotiations. Encouragingly, Australian Mines can confirm the offtake discussions have covered key terms such as pricing, volumes, and indicative timelines.
In parallel, Australian Mines is working to satisfy the due diligence requirements for these ongoing offtake discussions to progress towards formal contracts. The Company expects to enter into an offtake agreement in relation to the Sconi Project during calendar year 2021.
As previously outlined by the Company in its December 2020 Quarterly Activities Report, Australian Mines continues to engage with a range of project financiers including various credit export agencies, green energy funds, commercial banks, mezzanine financiers and international banks (for both debt and equity).
These engagements are covered by Non-Disclosure Agreements (NDA) and any advancement of those discussions will be disclosed via the ASX's Market Announcements Platform in line with Australian Mines' continuous disclosure obligations.
The Company reiterates that interest in financing the Sconi Project has been maintained since the publication of the Bankable Feasibility Study (BFS) in 2018-19 and that any project finance package is contingent on Australian Mines entering into binding offtake agreement/s for the supply of nickel and/or cobalt products.
The Sconi Project's Bankable Feasibility Study (BFS) completed in 2018 and updated in 2019, verified the nickel, cobalt, and scandium ore body at Sconi could be extracted and processed on commercially attractive terms through the development of open pit mining operations and on-site processing plant.
Key findings of the BFS include:
NPV(8%): A$817 million (post-tax)
IRR: 15% (post-tax) and payback period of 5.8 years (post-tax)
Expected mine life of 30+ years
Mineral Resource tonnage exceeds 115 million tonnes
Contained metal quantities:

738,359 tonnes of nickel, and
71,757 tonnes of cobalt

Life-of-Mine production (avg.): 46,800tpa Nickel and cobalt materials and 7,000tpa Nickel and cobalt materials
Total capital costs: US$974 million (incl. US$110 million contingencies)
Operating Costs: US$1.46 per pound Nickel (Total C1 cash costs; post by-product credits)
Life-of-Mine total revenue: A$13.27 billion
Total free cash flow: A$5 billion
Forecast to be one of the most cost-competitive cobalt producing nickel operations globally
Australian Mines is the first mineral resource company in the world to be certified a Carbon Neutral Organisation under the Australian Government's Climate Active Program.
Climate Active is the only Australian Government recognised certification, and it is awarded to organisations who have already reached the state of achieving net zero emissions (such as Australian Mines).
This certification followed the Company having its application for membership to the Initiative for Responsible Mining Assurance (IRMA) approved. The IRMA is an independent third-party organisation that verifies and certifies socially and environmentally responsible mining. The Sconi Project has also be given 'Prescribed Project' status by the Queensland Government, in recognition of our commitment to the communities where we operate.
Australian Mines' commitment to leadership on ESG arises from the Board's and Senior Management's view that it is the right way to operate the business, while also emerging as a key consideration for our potential offtake partners.
During the June 2021 quarter, the results of a Scoping Study into the economics of upgrading the production capabilities at Sconi to allow high value-add P-CAM for Nickel-Cobalt-Manganese (NCM) batteries were released.
The study follows Australian Mines' successful test production of P-CAM for NCM 523, NCM 622 and NCM 811 battery chemistries used across the electric vehicle industry.
The study was conducted by Ausenco and covered, as a concept level, incorporating P-CAM production facilities as an alternative to the Nickel and cobalt material crystallisation process included in the Sconi Bankable Feasibility Study (BFS).
The study noted that the P-CAM production facility could replace part, or all, of the Nickel and cobalt materials circuit, given that Australian Mines has been successfully producing P-CAM material directly from its intermediate Mixed Sulphide Precipitate (MSP) product without the requirement to go through the sulphate process.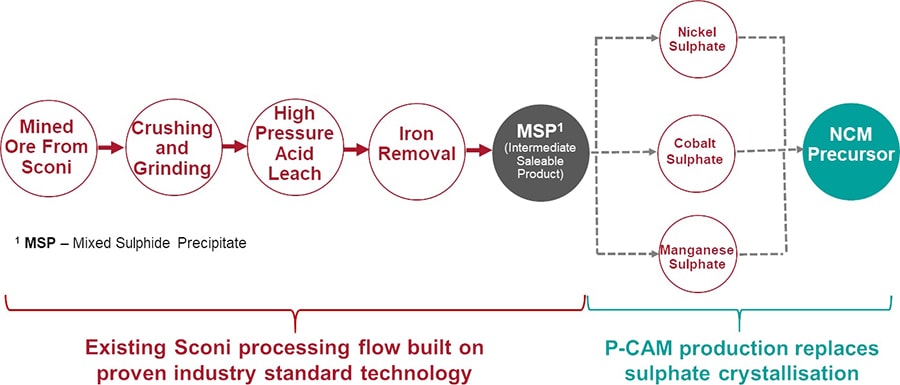 Figure 1: Australian Mines Sconi Project processing flowsheet, substituting precursor cathode active material (P-CAM) production for the sulphate crystallisation stage.

Figure 2: Australian Mines processing flow chart for precursor cathode active material (P-CAM) production from nickel, cobalt and manganese sulphates sourced from Sconi ore.
Following the highly encouraging results from the Sconi P-CAM Scoping Study, Australian Mines commissioned construction of a pilot P-CAM production plant in the June 2021 quarter. The pilot P-CAM production plant will go through wet commissioning during July 2021 before an optimisation process in August 2021 and complete P-CAM production runs expected in October 2021.
The pilot P-CAM production plant will be a fully integrated extension to Australian Mines' existing demonstration-scale High Pressure Acid Leach (HPAL) plant in Perth and will allow potential offtake partners to assess the full production circuit proposed for Sconi, from raw Sconi feedstock through to battery-grade NCM P-CAM.
The Sconi Project's Bankable Feasibility Study (BFS) was based on producing separate Nickel and cobalt material crystals as the final saleable product from the processing plant. These products sell at lower price points (albeit still at a material premium to LME nickel metal) than the value-added P-CAM products accessed by the P-CAM Scoping Study.
There has been a rapid and material price escalation of precursor chemicals in comparison to the sulphates that would be applicable to NCM P-CAM produced at Sconi.
The improved economics of selling P-CAM over sulphates is currently driving the direction of our offtake discussions. The margins on the P-CAMs, be it NCM 523, 622 or 811, are very attractive (compared to selling sulphates, or an intermediate Mixed Hydroxide Precipitate (MHP) or Mixed Sulphide Precipitate (MSP)) for an incremental increase in capex and operating costs as outlined in the Sconi P-CAM Scoping Study.
Australian Mines' proposed Sconi processing plant will utilise proven, industry-standard technology, which has been comprehensively tested over a number of years via the Company's demonstration-scale pilot plant in Perth, Western Australia.
Sample Nickel and cobalt material crystals produced from Sconi ore using the Company's pilot plant have been independently assessed by a range of potential offtake partners and found to meet their exacting standards.
Australian Mines, through its negotiations with offtake partners, gains insights into the requirements of the electric vehicle industry. As a result, the Company has built flexibility into the design of the proposed Sconi processing plant to ensure its output continues to meet the current requirements of offtake partners and can be adapted to meet future evolutions in electric vehicle battery chemistry.
A clear example of the Company's pilot plant design versatility is that the plant in now being used successfully to produce high value-add P-CAM for NCM lithium-ion batteries as Australian Mines seeks to extract maximum value from the Sconi Project.
This move into P-CAM production is at the request of a number of industry partners and the results to date have been highly positive.
Australian Mines successfully produced P-CAM for NCM523 and NCM622 lithium-ion batteries in 2020 and has completed a successful series of production runs of P-CAM for NCM811 lithium-ion batteries in 2021.
Further production of P-CAM is currently underway, including the production of cutting-edge NCM 90/05/05 P-CAM and a lithiated NCM Cathode Active Material (CAM) as the Company seeks to finalise its offtake discussions with interested parties.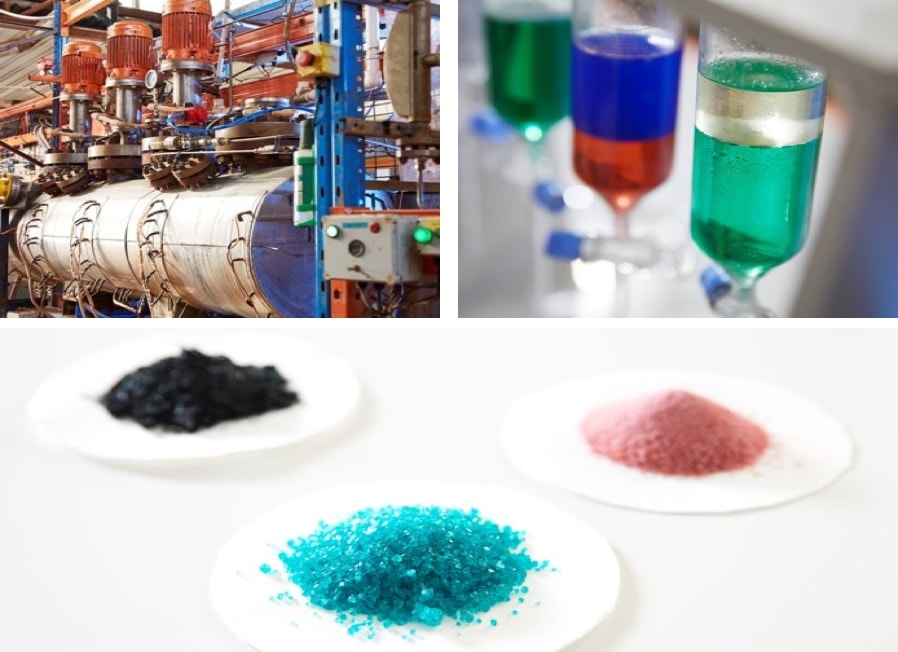 Figure 3: Collage of photographs taken of Australian Mines' demonstration scale processing plant in Western Australia, including images of the final Nickel and cobalt material and the intermediate mixed sulphide precipitate (MSP; black), which is routinely being produced.
On 28 July 2021, Australian Mines successfully received firm commitments to raise approximately A$6.5 million (before costs) in new equity via a full committed share placement to institutional, sophisticated, and professional investors ("Placement"). The Placement comprised the issue of approximately 342.1 million new shares in the Company ("New Shares") at an issue price of A$0.019 per New Share.
Strong support for the Placement was received from institutional investors domestically and internationally. Funds raised will be used for nickel and sulphate samples, exploration activities, the acquisition of additional tenements, and general working capital.
Australian Mines will now be producing P-CAM samples in addition to continuing to produce Nickel and cobalt material samples, which will help secure offtake agreements with various international battery and motor vehicle manufacturers.